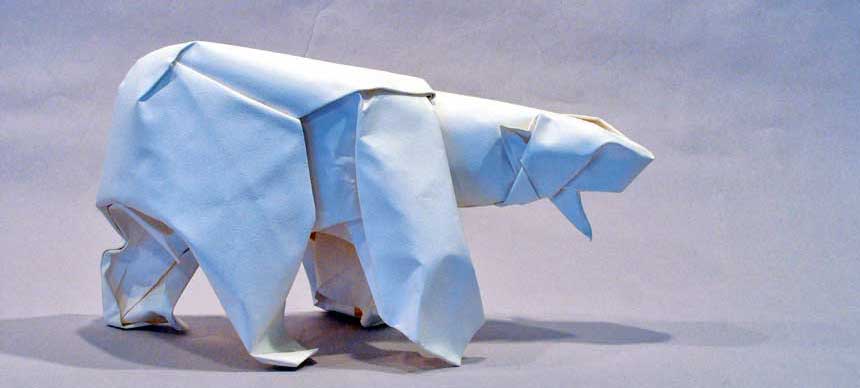 Bernard Peyton, born 1950, married, BA Harvard 1972, MS University of Montana 1984, Ph.D. University of California Berkeley 1995.
---
I
have been lucky to combine careers in science and art to help create parks and advertise their threatened species.  During my first career as a painter and printmaker I fell in love with paper. In 1976 my roommate from college, Robert Perkins, encouraged me to have an adventure of a lifetime. We canoed from Great Slave Lake in the Northwest Territories of Canada to the headwaters of the Back River, and then down it to near the Arctic Ocean, a journey of approximately 850-miles. Upon seeing white wolves that followed our progress through unspoiled wilderness, I became inspired to do something to preserve nature.
Within a year I was in Peru studying spectacled bears as a field biologist. Twenty-five years later I returned to something I had done as a child. I discovered that designing my own origami art was very similar to doing science, but more effective at advertising the fragile status of the endangered species I studied.  The years I spent observing wildlife became a rich library of images to inspire my paper sculpture.  In addition to creating art, I am most rewarded by teaching origami in a local hospital for children and lately, curating exhibits of the origami from my peers.   Although I can't cut trail like I used to in the cloud forest, origami has given me many more peaks to climb.
---
---
---
Curator
2016
Co-Curator of "Origami Living World"
National Museum of History, Taipei, Taiwan
Co-Curator of "Origami Universe" (upcoming in October)
Chi Mei Museum, Tainan, Taiwan
Group Shows
2017
"L'Origami sous tous ses plis", Villa Bagatelle, Quebec City, Canada
2016
"Origami Living World" and "Origami Universe", Taipei and Tainan, Taiwan
2015
"Folding Paper", Brigham Young University, Provo, Utah
Boise Art Museum, Boise, Idaho
Marin County Fair, San Rafael, California
2014
"Folding Paper" Peoria Riverfront Museum, Peoria, Illinois
Center for Visual Arts, Bonita Springs, Florida
Art in Science, Energy Biosciences Institute, Berkeley, California
Surface to Structure: Folded Forms, The Cooper Union, New York
Movement in Paper: The Evolving Form of Origami, San Francisco
2013
La Magia del Papel, Centro de Historias, Zaragoza, Spain
Kinokuniya bookstore, New York
"Folding Paper", Leigh Yawkey Woodson Art Museum, Wausau, Wisconsin;
Crocker Museum, Sacramento, California
Marin County Fair, San Rafael, California
Crease, New Trends in Origami, Sandusky Cultural Center, Sandusky, Ohio
2012
"Folding Paper",  Japanese American National Museum, Los Angeles, California;
Thorne_Sagendorph Art Gallery, Keene, New Hamshire
"Honoring Eric Joisel", Angouleme, France
2011
McConnel Arts Center, Worthington, Ohio
Fava Gallery, Oberlin, Ohio
Marin County Fair, San Rafael, California
2010
Monterey Airport, Monterey, California, USA
Cherry Blossom Festival, San Francisco, California
Fava Gallery, Oberlin, Ohio
Still Folding, Sandusky Cultural Center, Sandusky, Ohio
Marin County Fair, San Rafael, California
2009
Bellevue Arts Fair, Bellevue, Washington, USA
Going Origami, Bolinas Museum, Bolinas, California, USA
Exporigami, Centro Historico, Zaragoza, Spain
2008
Bay Area Origami Masters, Xerox PARC, Palo Alto, California, USA
Poetry in Paper, Galerija Grada Krapine, Krapina, Croatia
Museum of Vertebrate Zoology, Berkeley, California, USA
Transforming Kami, National Japanese American Historical Society,
SF Public Library, San Francisco, USA
2007
Cherry Blossom Festival, San Francisco, California
Treasures of Origami Art, Tikotin Museum of Japanese Art, Haifa, Israel
Paper Transformed, Mingei International Museum, Escondido, California
Four Masters of Origami, K Gallery, Alameda, California
Origami Masters, Pendulum Gallery, Vancouver, Canada
2006
Miyako Hotel, San Francisco, California
Pulp Fiction, Waveny Gallery, New Canaan, Connecticut
Lick-Wilmerding High School, San Francisco, California
One Man Shows
2009 National Taiwan University, Taipei, Taiwan
Chiang Kai Shek Gallery, Taipei, Taiwan
2011 Donaldson Gallery, Farmington, Connecticut
2012 Museum of Vertebrate Zoology, Berkeley, California
Invited Guest (conventions, workshops, contests)
2006 Matsuri Festival workshop, Phoenix, Arizona, USA
2008 OORAA Convention, Lyon, France
2009 New Year contest, Vietnamese Origami Group
2009 Justicia de Ukumari contest, Cali, Colombia
2010 Papiroflex Convention, Zaragoza, Spain
2011 Boyaca International Convention, Tunja, Colombia
2011 Prescott Visiting Artist, Miss Porter's School, Farmington, Connecticut
2012 Centerfold Convention, Columbus, Ohio
2013, KOA Convention, Seoul, South Korea
2013, Transformations, Exploratorium, San Francisco, California
2014, OASIS Convention, Israel
2014, 4th Congress of Zoology, Cartagena, Colombia
2015 MFPP Convention, La Rochelle, France
2015  33rd CDO Convention, Tabiano Bagni, Italy
2017 29th Origami Deutschland Convention, Bonn, Germany
Origami in Plays
2008 "Secret Life of Paper", Vancouver, Canada
2009-10 "Animals out of Paper", New York and San Francisco Playhouses
Permanent Collections
Origami USA, New York, USA
Mingei International Museum, Escondido, California
Tikotin Museum, Haifa, Israel
Galerija Grada Krapine, Krapina, Croatia
Origami House, Tokyo, Japan
Educational Museum Origami Zaragoza, Zaragoza, Spain
Origami House, Colonia de Sacramento, Uruguay
Articles and Videos
My teaching at Oakland's Children's Hospital
Article in the CAL Alumni Magazine
Translation of article in Madarin