A Fun And Friendly Origami Convention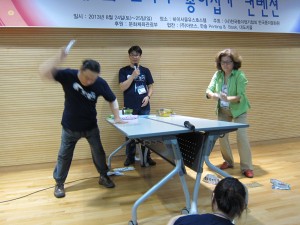 Won, Seon Seo and Vicky Mihara Avery, finalists in the snap contest at the 4th KOA Convention
If you want to go to an origami convention in a great country, attended by the most friendly welcoming people, in a fantastic facility, you can't do any better than the Korean Origami Convention.  I had the gift of a lifetime with Morisue Kei of being invited to attend the Korean Origami Association's 4th convention in Seoul this year (KOA homepage:  www.origami.or.kr).  Did I say friendly?  Well that started the moment the bus took me from the airport to the convention hotel.  I couldn't believe it.  There was more space for my long legs than on American buses.  A beautiful Korean woman a third my age went out of her way to guide me the half kilometer from Yeongdeungpo-gu bus stop to the Hi-Seoul Youth Hostel (www.hiseoulyh.com).   There I was greeted by KOA's Director Lee, Song Yun, and Vice President Kim, Kyung Lan  and the convention staff.  There was a wall-sized display of origami arctic animals with conservation messages at the head of the exhibition room on the second floor.   I wonder if they had somebody in mind with those giant folded polar bears?  Director Lee invited me and all the foreign guests to dinner not knowing how much I crave anything red, especially spicy Korean food.  What a welcome!
Classes and my lecture to the 165 convention participants began the next day after a very comfortable sleep and a breakfast in the downstairs café of fresh baked pastry.  I was anxious.  Being mostly self-taught and somewhat untraditional, I feared I would be offensive for explaining why I coat paper with plastic, or infuse some of my creations with wire armatures.  After all, this was a country with thousands of registered origami instructors who had passed years of instruction.  Despite being as offensive as I could be, nobody seemed to mind.  Morisue Kei saved us invitees by presenting a thorough overview of color-change during his lecture.
My three classes and those I attended were markedly different than those I experienced in New York at the Origami-USA conventions.  Nobody disrupted teaching with irrelevant questions or comments.  Nobody had to know whether Carl Linnaeus described the species I was about to teach or whether edges lined up when two points were put together.  Instead folders were too reserved to ask for help when they needed it.  I finished teaching models in the same amount of time to the same number of students as in other conventions, but with the added time needed from the expert interpretation provided by Lee, Hyung Kyung.  Everybody got the classes of their choice in part because it was a smaller convention.  Nobody felt it proper to demand that I give them my models from the model menu or from my display.  There was none of the entitlement I had come to expect at origami conventions.  Unlike at the JOAS Convention the week prior, people of all ages came up to me and practiced their English.  People wanted me to enjoy the convention!
Most origami conventions have contests, but the KOA contests were more inclusive than most.  Thankfully, I didn't have to fold a piece of saran wrap, a tortilla, or a toilet seat cover to beat Brian Chan or Satoshi Kamiya.   Instead everyone of all ages could win the rock. paper, scissors; the paper airplane, or the snap contest.  Well, almost anyone.  Vicky Mihara Avery and Won, Seon Seo were nothing short of competitive.  Their attempts to fold and then snap a model with a popping sound was a hilarious tie-breaker that Vicky eventually won.
All the out-of-town guests went on a shopping spree the day after the convention.  There were plenty of great quality items to separate you from your 50,000 won notes, including rack upon rack of hanji paper in every color, and windows hung with hand-made brushes and silk scarves.  Buy something, then have some more scicy food, followed by cool ice cream and iced coffee;  it just doesn't get any better.  I hope to get back to another KOA Convention soon!
Related Posts