Origami Exhibit in Taiwan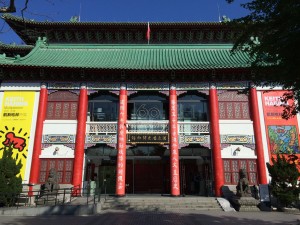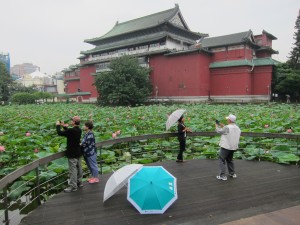 On February 5, 2016 "Origami Living World" (OLW), an exhibit of two dozen of the world's best origami artists, opened at the prestigious National Museum of History in Taipei (NMH).  This culminated over two years of work for me that included 7 visits to Taiwan, dozens of workshops and lectures, and more than 2 gigabytes of emails, not including attachmenets.  The museum is surrounded by acres of lotus garden, a fitting setting for a show about nature.
The artists for the exhibit were chosen from around the world for their artistic expression of subjects from nature, including humans.  The exhibit coordinator, Dr. Hon-Tsen Yu, is a leading geneticist in Asia and professor at the National Taiwan University (NTU) which is a co-sponsor of the exhibit.  Dr.Yu has been pioneering programs such as this exhibit as part of the university's public outreach. He obtained grants from private individuals with some help from me to bring the origami art to the NMH.  My co-curator, Linda Mihara, and I want to show the public that paper can be transformed only by folding into marvelous art works.  Origami appears fragile and temporary, like the paper from which it is made, and like the condition of so much of our natural environment.  Its presence is powerful, although fleeting.  We wish to draw attention to the grace and precarious state of natural subjects with this exhibit.
According to Dr. Yui-Tan Chang (Director NMH) and Marco Chang (Exhibit Department), "OLW" has broken new ground for the NMH. It is the first significant exhibit of modern origami in a Mandarin-speaking nation.  The NMH coordinated with the Chi Mei Museum to move the exhibit there after it closes on April 17, 2016.  This is a rare collaboration between a public and a private museum. The Taiwanese Origami Association (TOA) had its inaugural meeting a week before the opening of the exhibit. The TOA is the 57th origami group to be recognized by governments in 31 countries. Their headquarters is in Robinson Bookworm Shop in Taichung City, where they have display areas, and a workshop room capable of seating 30 people. With the help of mathematicians Drs. Ko-Wei Lih at Academia Sinica, and Lydia Wen at the National Changhua University of Education, Dr. Yu and I are developing a mathematic education program using origami to teach it. The idea is to make mathematics both fun and very challenging and to teach students how to approach what they don't know. We are concerned about what happens when these two exhibits end. Who knows? In addition to new innovations perhaps thousands of residents in Taiwan and elsewhere will be encouraged by these exhibits to explore the magic of what a single square piece of paper can become.
I want to thank two anonymous donors for their generous contribution of $ 20,000 USD and the artists in OLW for the loan of their artwork to Taiwan for more than a year. Here in pictures is some of what these artists created.
Related Posts