Eric Joisel Remembered
On the 15th of October, approximately 60 of us, family and friends, gathered in Enghien-les-Bains to say a final farewell to Eric Joisel. To many in the origami community, he was a much admired colleague. He was more than that to me. He was a dear friend. I would visit with him when I was in Paris and we met at conferences. Once or twice we spent the night at chez Clavel (Yves Clavel and Marie-Hélène Clavel-Catteau) near La Bastille. We shared many laughs and some serious discussions about the future of origami. Unlike Eric, I was optimistic about the latter. I prodded him to accept some help and company in his house at Sannois. "Non, non, non…pas de tout… I will have nothing of that. You see I have to concentrate on my work…" Stubborn to the end. I tried with no success to drive him to and from Spain last August.
I met Jamie Kelley and Joseph Wu at Charles De Gaulle airport the morning of the 15th. We were tired and both my friends were fighting colds and flu. The strikes in France against raising the retirement age and benefits had tied up all transportation. We were lucky the cemetery was near the airport and a short walk from the center of Enghien-les-Bains. The gray sky, cold, and rows of imposing sarcophaguses in the cemetery complemented our mood. Joseph constructed a model of Eric while Jamie made Eric's rat and swan. After hours of waiting, we were joined by Eric's four older siblings and their spouses, friends of Eric and his family, a few more members of the international origami community, Parisian members of the MFPP, and a few folders from the rest of France such as Claudine Pisasale. Mounds of colorful flowers and a photograph of Eric playing his folded accordion were arranged on his coffin. Alain Joisel, Miri Golan, and Yves and Marie-Hélène gave moving eulogies. We cried like babies. The coffin was lowered into the grave. We showered it with origami as we passed by it to the strains of Jamie's webfilm soundtrack. I tossed in a bear paw and a salmon. The latter seemed appropriate given that all pacific salmon die after returning home.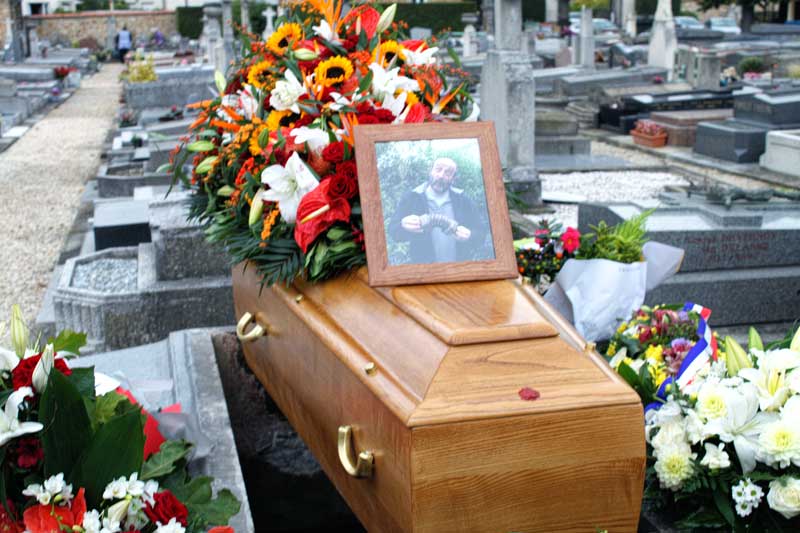 After the service we convened at the house of Eric's oldest brother on the same block as the cemetery. There Yamaguchi-San shared with Eric's family the book he would soon publish. The following day the Clavels hosted a party for Eric's family which included a showing of "Between the Folds". Alain confided that they knew Eric was an excellent folder, but they had no idea how much he was revered for his talent internationally until the last few days. This was a silver lining in this very sad time.
Another event was noteworthy. The Clavels have a big collection of Eric's work, given to them by Eric when he comes to stay with them. The last piece that Eric made was a tiny wizard; something that perhaps Giang Dinh would have created (Picture clipping called "wizard" – 6 mg). Eric gave it to Yves on the 10th of October before Yves left the hospital. Yves placed it on his piano. At approximately 11:30 that night, the Clavels heard a noise. Something had fallen. It was the little wizard. Yves picked it up and replaced it. What made the wizard fall? There was no draft of wind. At 7:30 the next morning Alain called the Clavels to tell them that Eric had passed away the night before, …
when the wizard had fallen.
Yves sent me this picture.
In case you missed some of the reaction by our community to our fallen wizard, here are some links for you to enjoy (in no particular order)
Giang sent me Nguyễn Hùng Cường's (Vietnam) model he created of Eric: http://thurly.net/10he
Steven Casey ( Australia) sent these photos: http://thurly.net/10hg
An online obituary in French magazine Styles: http://thurly.net/10hh
Many other links can be found on Eric's website: http://ericjoisel.com/about.html
In case you missed it, here is Robert's article: http://www.origami-usa.org/memoriam_eric_joisel
Here's a most unusual tribute sent to me by David Brill: http://thurly.net/10hk
Related Posts
2 Responses